News: Hackerattack
Someone tried to silent andyplanck.co.uk because we were hacked yesterday. It was done by some bloke with too much sparetime…  It was an attack coming from Morocco. some guy that disliked my music.But now were back with new layout and to the hacker:
THE WINNER TAKES IT ALLLLLL!!!!!!!!!!!!!!
This was his message,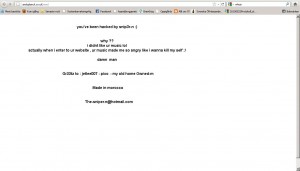 and he also called me varoius dirty words.